NEW RELEASES
By Dr. Austin de Bourg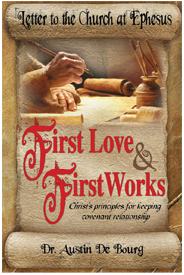 LETTER TO THE CHURCH AT EPHESUS – FIRST LOVE & FIRST WORKS
Many feel certain that they are right with God and on their way to heaven, when in fact, they are not!
This was the sobering predicament of 5 of the 7 Churches of Jesus Christ as revealed in His letters to them in the Book of Revelation. The Church at Ephesus was one of these five, despite the admirable commendations given to them by Jesus, He also warned them that they had left their "first love" and had failed to do the "first works." Unless they repented quickly, they faced possible expulsion from the Body of Christ! This first book in this expository series provides extensive revelation on the fundamental principles of First Love and First Works. In it, the author guides us through the scriptures to help us to comprehend the significance that God has placed on these two distinct albeit intricately connected principles that are vital to our eternal destiny. This entire series will be a major eye opener revealing just how relevant Jesus' letters are for us today. They could well be the very thing that is needed to place us in the perfect will of God, as they provide this present-day church with the spiritual "rudder" to steer it on the right course.
If you truly desire to be right with God and to secure your eternity with Him, in heaven, this 7-part series is for you!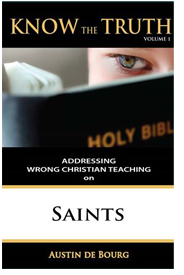 KNOW THE TRUTH VOLUME 1 – SAINTS
God defines who saints are not man.
There are varying views as to who should be called a "saint." Some religions have devised their own doctrines on this without considering God's view on the subject. These man-made doctrines undermine the wisdom of God's way and deny His infallibility and supremacy. God alone has the authority to define who saints are! This insightful book helps us to come to the truth of who God calls a saint and teaches us how we can step into God's plan for our lives and be supernaturally changed and restored.
Discover how to truly become one of the saints of God as God originally intended!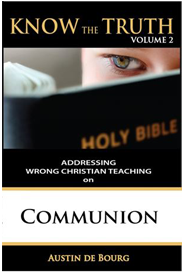 KNOW THE TRUTH VOLUME 2 – COMMUNION
Experience the remarkable power of Communion
The author takes the reader on a journey through the scriptures to show the significance of Communion and the extraordinary benefits of this crucial ordinance which Jesus Christ Himself instituted for those who belong to Him. A vital resource, this insightful book teaches us the true meaning and purpose of Communion clearly revealing that it is infinitely more than a mere religious practice or ritual done out of form or tradition.
Choose God's way rather than man's traditions and experience divine healing, deliverance, provision, protection and comfort!
KNOW THE TRUTH VOLUME 3 – THE CHURCH
Discover the invincibility of the true Church of Jesus Christ
Jesus' meaning and use of the word "Church" is not the same as commonly held beliefs. This book uses the teachings of Jesus Christ to uncover the meaning, understanding and proper context of God's word regarding His Church. As you read you will discover Christ's purpose for His Church and understand the power and authority vested in it.
The True Church is the one through which Jesus will work to bring a restoration of biblical truths!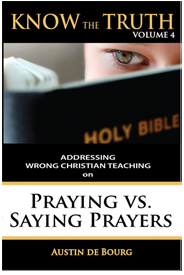 KNOW THE TRUTH VOLUME 4 – PRAYING VS SAYING PRAYERS
How to pray to get results
In this practical yet revelatory work, the author shows that prayer, as God ordained it, is one of the most essential and valuable doctrines that God has given to mankind. As you read, you will discover the vast and critical difference that exists between praying the way Jesus Christ taught His disciples to pray and just "saying prayers." Based entirely on the Word of God, it teaches, in a simple and easy to understand manner, the essential precepts of effective prayer and equips and empowers the reader to tap into the immeasurable power of prayer.
Empowering you to become one whose prayer "availeth much!"