What Really is Christianity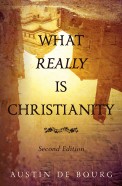 Christians should not settle for the religious and secular Christianity that exists today!
says Author, Austin de Bourg who deals frankly with the misconceptions of Christianity which many earnestly practice today, warning of the dangers of replacing relationship with God with religion which, in fact, keeps us from coming to God.  Not only does he diagnose the present malady of Christians and Christianity, but he prescribes the corrective treatment.
This book is a wakeup call to slumbering Christians!
It addresses the urgent need to return to Christ's Christianity, and to passionately pursue a personal, intimate relationship with Him, the Father, and the Holy Spirit.
​​In his unique, simple style author, Austin de Bourg takes the subject of Christianity to a dimension where modern literature on the topic rarely ventures. He unveils Christianity from God's perspective and reveals truths from the Word of God on the supernatural birthright and heritage of Christians and Christianity. As you read this book, you will discover who God intends for you to be and how to fulfil your God-appointed purpose!
Both Christians and non-Christians alike will benefit from this insightful work pregnant with biblical truths revealed to the author through his personal, intimate relationship with the Trinity. Each chapter is filled with his passion to see everyone experience the superior quality of life that he himself has come to know and experience through Christ's Christianity.
Too much is at stake for you not to know the Christianity which Jesus Christ has prepared for you.