Reverend Jennifer Mohammed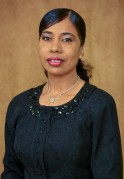 As a young minister in Trinidad Christian Center, I have not only been influenced by the administration and teaching of Apostle Dr. Austin de Bourg, but I have also been personally mentored by him.
During our many one-on-one sessions, I have been impacted by the intimacy he shares with the Father, Jesus and the Holy Spirit. From his teaching and example, I have come to know the power of Agape (the God kind of love) and to understand that it is the chief gift—from which all the character of God flows. This is evident in his life as he demonstrates the supernatural character of God by the fruit of the Spirit which is so consistent in his life. I have been so greatly affected by the consistency of his walk that I now always ask the Lord for more Agape. I ask to be baptized in it and I ask the Lord to make it overflow in me the way I see it being poured out of Apostle in every aspect of his life.
His example has changed my view of Christianity so that now I strive to be different. I aspire to carry this gift of love to all those with whom I am in contact, to bring change to many as he has brought change to the way in which I view God and His Word through his life.
I think of Apostle as a "new wineskin" which has been preserved and matured for use by the Master (Matthew 9:17). He is bold, powerful, full of substance from the Word, and immersed in the Spirit of the Lord.
Ephesians 4:11-16 explains that God has given apostles, prophets, evangelists, pastors and teachers to the church to bring all believers to maturity in Christ. The Amplified Bible goes further to describe these apostles as "special messengers" from God.
Apostle Austin de Bourg is certainly a special messenger sent by God, as described in the Word. I am thankful for the opportunity that I have been given to be mentored by him.