Reverend Audrey Charles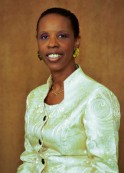 1 Corinthians 4:15 says, "For though you might have ten thousand instructors in Christ, yet you do not have many fathers…" Although I had been in full time ministry for several years, I had never had anyone to mentor me in my Christian walk, far less in ministry. God's grace kept me until He joined me to Trinidad Christian Center, and to Apostle Dr. Austin J. de Bourg.
It has only been four short years, but within that time my life has been transformed under the leadership of Apostle de Bourg. As one of the young ministers at TCC, I am privileged to be discipled by one of the few true apostles of this time. Like Jesus, the Chief Apostle, Apostle de Bourg never asks that we do anything that he would not do himself. He is one who leads by example…living the life that he preaches about.
Apostle de Bourg's messages are simple enough for a child to understand, yet comprehensive; gentle yet compelling; loving yet sobering. By observing him I am learning how to reach everyone in the congregation, regardless of their level of faith. I have seen, through his obedience and sacrifice, what it means to be a living epistle. Apostle not only teaches and preaches about agape—the God-kind of love—but he exudes it in everything he does. Even his correction is done with a love that reflects the love of the Father. That has been a key lesson which has helped me in preaching, in counseling and in my own personal life.
Apostle's keen sensitivity and commanding authority in the spirit realm are indisputable, whether he is preaching to a multitude or ministering one-on-one. In him I see a son of God manifested! Whenever I seek his counsel on a particular issue I am always confident that his advice comes directly from God's Throne Room, and is full of wisdom and truth for the situation at hand. It is obvious that this is because of his deeply intimate communion with the Father, Jesus and the Holy Spirit. I am constantly challenged and inspired, through his example, to pursue an even deeper relationship with The Trinity.
I willingly and enthusiastically follow Apostle Dr. Austin J. de Bourg as he follows Christ, with the hope that I, too, will impact the lives of others as he has impacted mine.