Reverend Annette Dalton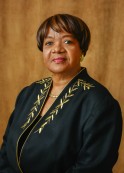 It should be the aspiration of every person called to Ministry to sit under an apostle of Jesus Christ, who has been duly called and appointed by Jesus Christ Himself to this office. Apostle Dr. Austin J. de Bourg is such an apostle and I am proud to have had the opportunity to sit under him as a junior minister.
He has demonstrated to me first hand that, notwithstanding the benefit that can be derived from attending theological schools, the role of the Apostle goes further to include the everyday, practical "living out" the scriptures. Like the Apostle Paul, he mentors and guides those who are called and appointed by the Lord into ministry from a practical standpoint, and not just a theoretical one.
I have been consistently impacted by the clarity of teaching and revelation that he is able to extract from the scriptures. I value this especially in these last days when there is such widespread misinterpretation of scripture, and where everything often caters to the flesh, leaving little or no room for the Spirit of God that gives life to the Word of God to effect the needed changes in people's lives. Apostle de Bourg's ability to rightly divide the Word of truth and to communicate life-giving revelation from the scriptures has revolutionized my life in more ways than I can record.
Furthermore, his Pauline approach to ensuring that Truths be restored to the church and his sacrificial passion to see Jesus Christ once again be the Head of the Church on the Earth are motivated by his intimate relationship with the Trinity—Father, Son and Holy Spirit.
Apostle de Bourg's influence on my life and Ministry, both internally and externally, is beyond my ability to adequately express. I am indeed honored to be a beneficiary of his apostolic anointing and administration.