Pastor Kelvin Siewdass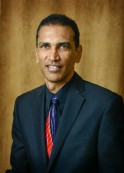 I first met Apostle Austin de Bourg (then Pastor) in 1981. I had just returned from the Morris Cerullo School of Ministry in San Diego, California, USA, where I sat under many internationally well-known men of God in the Christian faith. As I listened to Pastor de Bourg share the Word of God, however, it dawned on me that this was the greatest man of God that I had ever heard in my life. At that time, I was a young preacher with much ambition to win the world for Jesus Christ—much ambition but no clue about what it really takes to be a man of God.
This marked the beginning of many years of mentoring from this very unique Apostle. Over the years, I have been very fortunate to travel with him on some of his foreign trips and spend much quality time with him, and I have found myself in awe of his love and passion for the Trinity, and for the kingdom of God. It has been such a privilege to listen to and learn from his many unique experiences in the Lord. I have tried to seize every opportunity to allow the experiences he has had with the Trinity, which shaped his life, to also shape my own.
Apostle has never withheld from me anything that would help me to progress. He has freely shared of both his successes and his shortcomings. What great treasures of learning these have proven to be! They serve as a constant guide as I find myself facing similar circumstances.  These times spent with him have so molded and shaped my life and ministry that without them, I believe I may have lost my way.
Apostle de Bourg's faithfulness to the Word of God and his love for truth have helped me to be likeminded. Seeing firsthand his love and tender care for people has also caused me to come up higher in this regard. Yet, when it comes to critical matters of the kingdom, he is as forthright as is necessary and is always uncompromising, because he believes that God's business requires responsibility and accountability.
By nature, I was not always a person of excellence but, having observed Apostle, I can now say that I have caught that spirit of excellence that he has, and it has so grabbed a hold of me that I have little tolerance for anything less.  Excellence in everything was my observation of him.
What can I say about his wisdom? Ministers and ministries perish because of a lack of wisdom. I am yet to see another man of such astute wisdom as Apostle de Bourg; a man who possesses wisdom in natural things and wisdom in spiritual things. If it had not been for his wisdom, I would have certainly been derailed. I am thankful that, through my association with him, wisdom continues to be passed on to me in certain spiritual and administrative matters. Needless to say, I am in constant communication with him to get his thoughts on varying matters as I continue to be mentored by him.
If I have to single out one thing that has impacted me the most about him, it is his love for The Trinity. This singular trait of his has challenged me, arrested me and compelled me to keep pursuing the Lord for greater intimacy with Him. I thought that I had really loved Jesus until I met Apostle. I now know from listening to him that if I ever lose this, I lose everything, as this is the place from which all ministry flows. Although this desire has led me to the sufferings of the cross, I embrace it as I see in real life how he too had to do the same. His example is one that I gladly follow.
As I serve as Pastor of Trinidad Christian Center, under Apostle's leadership, I continually draw from all that I have learnt in the many years I sat under his ministry and received his mentorship. Without those life-changing deposits into my life, it would be impossible for me to function in the capacity that I do today.