Know the Truth – 4-Part Series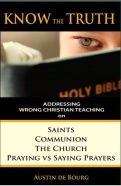 "If we think wrong we will believe wrong and we will act wrong"
says author, Dr. Austin de Bourg as he appeals to us to get back to the simplicity and authenticity of biblical truths and encourages us to take another look at what we were taught to be true concerning 4 fundamental Christian doctrines: – Saints, Communion, The Church, & Praying versus Saying Prayers.

Based entirely on the word of God, Know the Truth lays bare the fallacies of some religious doctrines we so easily embrace as truth and removes the veil of deception which blinds so many to the truth of God's Word.
This 4-part series will enable you to see more clearly the critical issue of truth versus error. It will teach you how to determine godly doctrine and help you to grasp the true meaning and significance of these 4 vital Christian doctrines. Furthermore you will discover how to reap the many benefits, which God Himself provides for those who choose to embrace His truth.
Know the Truth is a vital resource for anyone who desires truth!