His Excellency Arthur N.R. Robinson, T.C., O.C.C., S.C.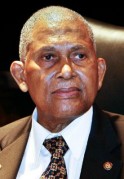 Tribute from His Excellency Arthur N.R. Robinson, T.C., O.C.C., S.C., former President and former Prime Minister of the Republic of Trinidad and Tobago, delivered at an Appreciation Service held in honour of Apostle Austin de Bourg at Trinidad Christian Center on October 30th 2011.
My beloved Apostle de Bourg,
Ministers and Pastors of the Gospel,
and other fellow Christians, particularly of the Trinidad Christian Center
I am a baby Christian.
I was brought in a wheelchair, or rather, I should say a pram which is called a wheelchair. I was brought because I wanted to come.
As a baby, I'm amazed at what you big Christians can do under the inspiration of a Christian, an Apostle of such enormous stature: Pastor Austin de Bourg.
I bring to him and to all of you my warmest greetings, my best wishes and hopes for the future, in the spheres in which you are involved.
So may I extend my love, my best wishes, and my great appreciation not only to Pastor de Bourg, who is almost like a father to me, but to all of you. My father died many years ago but Apostle Austin de Bourg is like a father to me.
I must stop now because I've been told to be brief. But let me say, the ears with which I hear, and on previous occasions I could not hear because I did not have those ears, were acquired and transferred to me by Pastor de Bourg.
So I came to honour but I feel honoured myself by being present on this occasion.