Our Apostle
Founder, Pioneer . . . Restorer of Biblical Truths and Biblical Christianity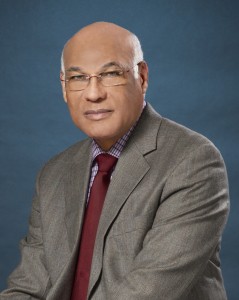 Founder of Apostolic Renewal Ministries, Apostle Dr. Austin John de Bourg is a man of apostolic vision and insight into the word and ways of God.  Through his sacrificial life and relentless labours of love, many have been and are being equipped for the work of the ministry.
Appointed International Pastor of the Year – 2016
Apostle Dr. de Bourg is unique in many ways, possibly because his experiences in God have been unique. From the age of eight, the Lord started to draw him into the woods near his home to reveal His presence to him. It is in the seclusion of those woods that he first learnt brokenness, submission, and humility as he experienced the Father's consuming presence and Jesus Christ's love in a deeply personal and unique way.
His early years of ministry began with a revival which lasted for 5 years. This radically affected the spiritual state of the Church in the twin island Republic of Trinidad and Tobago. Signs, wonders, miracles and salvation accompanied his preaching and people came from all parts of the nation to experience this new move of God. He first served in the office of the Evangelist from 1977 – 1980, then as Pastor of Trinidad Christian Center, which he founded in May of 1980.
The Pastoral decades from 1980 to 2000 were intense front-line experiences, under the leadership of the Holy Spirit and teams of ministers were raised up locally and abroad. Today there are few Christians in the nation of Trinidad and Tobago that have not been touched directly or indirectly by his ministry.
In the year 2000, he was appointed to the office of the Apostle by his covering Bishop, Don Meares. In his apostolic call God has sent him to minister, equip, train, and empower ministers in Africa, India, Haiti, Jamaica, Trinidad and Tobago, Canada, and the United States and has mentored some in Austria and the Ukraine.
Holder of a doctorate in Theology (Th.D.), Apostle Dr. de Bourg has, over the years, been recognized both locally and abroad for his outstanding contributions to the Body of Christ and is the recipient of a series of awards in recognition of his substantial life's achievements in his over 35 years of effective ministry.
He has received two honorary Doctor of Divinity (D.D.) degrees and one honorary Doctor of Pastoral Counselling (DPC) degree. Further to this, he has been awarded the designation Christian Certified Chaplain (CCC) for the United States of America, Canada and Mexico.
Additionally, in February 2016, he was conferred the distinction of Kingdom Ambassador, an honor bestowed upon him by Word of Life Ministries International, an NGO in Special Consultative Status with the Economic and Social Council to the United Nations (ECOSOC). In June 2016 he was nominated International Pastor of the Year by the Canadian Christian Theological Seminary Canada in collaboration with its associate Bodies in Russia, Korea, and Africa.
A true father of the faith, Apostle Dr. Austin de Bourg's worldwide ministry affects lives and brings change wherever he preaches the word of God.